Robin Hood - Shifting Riches
Robin Hood is a slot machine with 5 reels where the goal is to spin identical symbols on one of the 20 fix payout lines. Fix means that cannot be changed, in every round we are playing with all 20 lines. The pay-out chart is enriched by the extra features: Shifting Reels, free spins, moneybags and wild symbols.
Gameplay
When setting the bet we have to set: The Level and the Coin value. You can achieve a total of 10 levels, on every level ve place one coin on the lines. The coin value can be increased up to 1 dollar. Let's see a simple case: We set level 4 with 1 dollar coin value. So the total bet for a spin is 80 dollar. You can start the game with the circular arrow.
Automatic game and Max bet
The 5 reels of the game can be started in automatic mode. In Automatic game we can set the number of spins beside the value of bet. You have extra options like, which is the value of winning where the automatic spinning of the reels should stop. The Max. bet immediately spins the reels, but proceed with caution because it operates with current coin value, with maximum line number and maximum bet.
Payout lines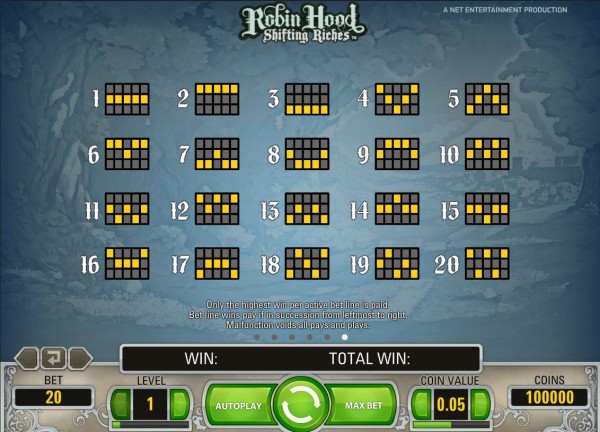 ---