Magic Portals
Magic Portals is a five reel slot machine with 25 lines offered by NetEnt. Its characters, sound effects and animation create a magical world where the aim is to swivel out the same symbols in one of the payout lines. We can get extra winnings and free spins with the help of special shapes.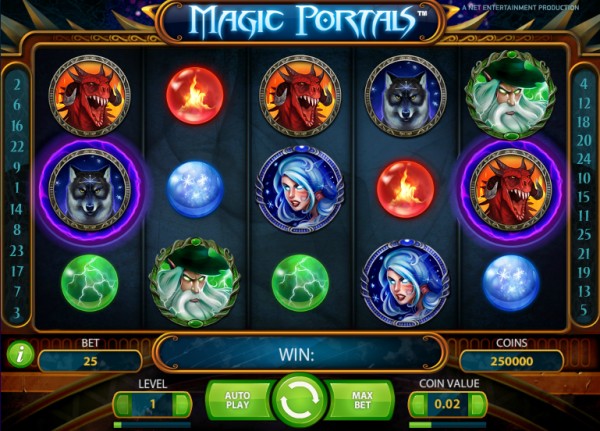 Gameplay
The number of lines cannot be changed at this slot machine, it is always 25 and can be viewed at the information section. The coin value has to be set and it represents the sum bet on one line. The bet can be changed further more in the Level section and where the bet is raised in concordance with the level. For example: on the second level the line bet is doubled and thereby the total bet as well. After setting the bet, you just need to start the spins by clicking on the circular arrows.
Special symbols
The game includes an automatic mode at which a predetermined number of spins goes down, without having to do anything. For winning, the average symbols must be placed from left to right on the payout line. There are some special symbols, like Wild and Free Spin, The Wild spin replaces any other shape and creates a winning combination, while the Free Spin results free rounds.
Pay-out chart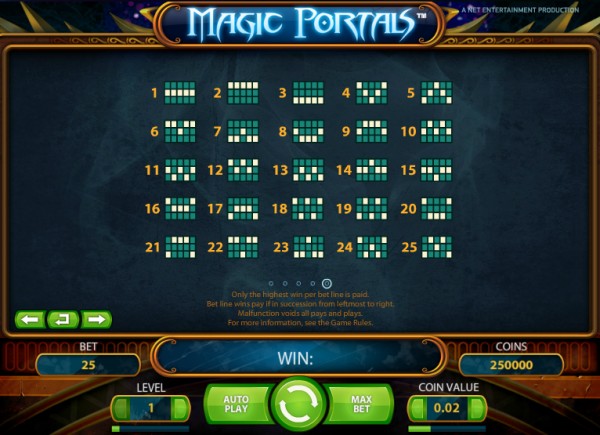 ---