Cirque du Soleil Amaluna
The world of the famous circus unfolds before the player, inviting everyone to experience the Cirque du Soleil Amaluna slot machine, where the goal is to collect identical symbols. All of your questions have answers in the information section. There are 40 fixed paylines but in addition to this, the game is very customizable.
Gameplay
The bet is set below the reels in the Total Bet section using the plus and minus buttons. The total bet, the amount which gets deducted form your balance in a single spin, gets calculated this way: a bet unit is placed on the 40 paylines and the multiplication of the two gives the total bet amount. The game can be started with the circular arrow button under the reels. 
Bonus Wheel
In order to activate the Bonus Wheel, you must spin out 3 Scatter symbols. If only 2 Scatter symbols appear on the reels, the game may place an extra scatter, after the end of the spin. When an extra scatter gets added, the symbol obscured by it will appear as a watermark and the payout will happen as per usual.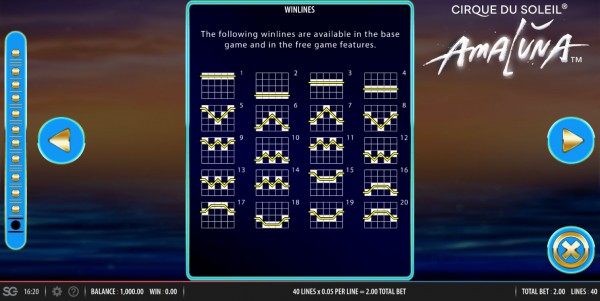 ---