4-Line Aces and Faces
4-Line Aces and Faces is a classical video poker based on five-card poker. They differ from the classical version as they deal 4 lines of 5-5 cards from 4 different decks. The game has the usual round of card change and the strength of the combination after this round will determine the size of the pay-out. If you have a winning combination you can choose doubling, further increasing your winnings.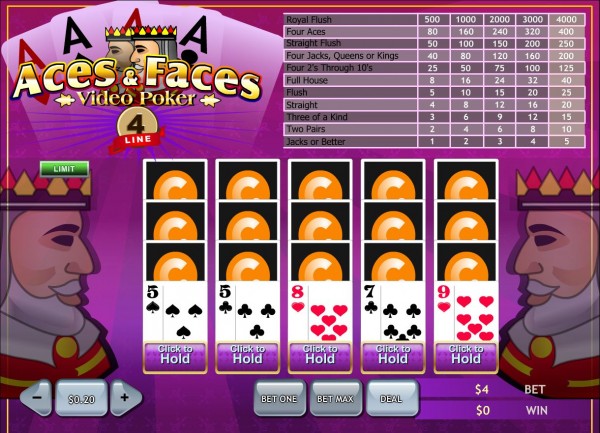 Gameplay
You can set the coin value with the help of the plus/minus buttons. By raising the number of coins you can move up the winning levels. There are 5 levels. You can play with maximum 5 coins in a game. You can increase the number of coins with One bet button, while the Max bet will raise the number of coins on the maximum and start the game automatically.
Dealing
We can get cards with the help of the Deal button (if you haven't chose Max bet) and you can change all of them. We can choose the card that we want to keep with the Hold button. The game automatically keeps the winning combinations, but you can change that. After the change, the quality of the card combination will define the size of the winning. Lowest limit: Pair of jacks!
Pay-out chart
Doubling
You can double the stake or half of it. A turned card will be dealt and you have to choose a higher value card from the four cards spread out. If you succeed, the winning will be doubled and another round of doubling is possible. If you choose not to double you may click on the Collect button and the game ends with pay-out.
---