Mild Rockers
Mild Rockers is an 80-payline game, where the goal is to spin out the same symbols. As the name suggests, the shapes that appear on the reels evoke the world of rock music. The information section offers you answers for any question you may have during spinning.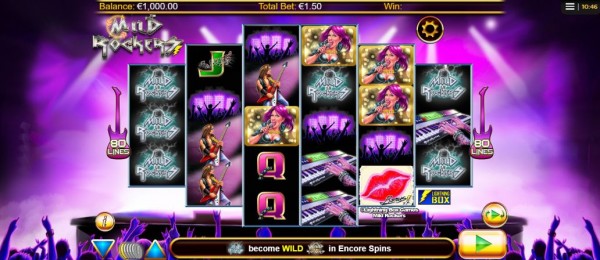 Gameplay
Before starting to play for real, it is advisable to set the bet, which can be done in the lower left corner, right under the reels. You can use the upward pointing arrow next to the chip symbol to increase the amount and the downwards pointing one to decrease it. The game starts with the yellow rectangular button decorated with a green triangle symbol. An automatic mode is also available, with a preset number of spins going down, while all you have to do is lay back and hope for a great outcome!
Scatter and Wild
The Scatter symbol in the game is a female mouth, which gives you free spins. This may also appear during free (non-bet) rounds, in case you will get access to additional free rounds. The Wild is a female singer, which replaces all other symbols except for its special counterparts. It is able to create winning combinations on its own, if you are able to spin out at least three of these on one of the paylines.
---