Blender Blast
The Blender Blast slot game takes place on the beach, creating a relaxed and light atmosphere for the player. It is played on a 5x5 field, where the goal is to spin out the same symbols. In addition to the basic ones, there are also special shapes which provide extra options such as free, no-stakes spins.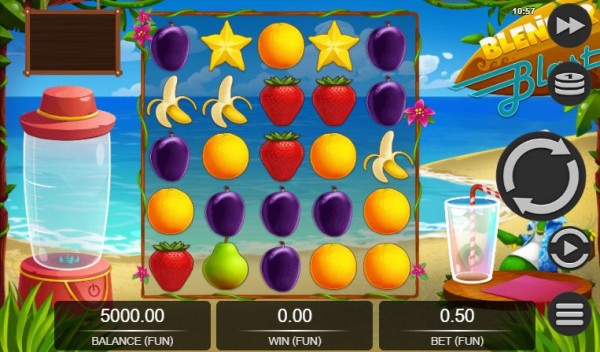 Gameplay
In the Bet section you can set the amount you would like to risk during a single spin. This can be done with the help of the plus and minus buttons, making changes to the bet this way. The game starts with the circular green arrow. At this point, the playing field empties out and 25 symbols fall to their places. You can also access an automatic mode, where you can enter not only the number of the rounds, but also the winning or losing limits, which will stop the automatic mode if necessary.
Special Symbols
The Star works as and extra odds symbol, multiplying the total amount. Yellow hearts give you free spins and ice creams work as Wilds, substituting everything else. You can collect letters fort the Blast caption, which if you manage to pull together, free spins will follow.
---